Hi All,
In this post, I'm going to give an update on what's on the agenda for 2022 in terms of new courses and development for DegreeTutors. If you've seen the roadmap you'll already have a general sense of where we're going but as subscribers, I want to give you a bit more detail.
As I mention each project, I'll try to give you a sense of where it fits in the timeline. Obviously, this is an aspirational plan, there is uncertainty baked in…but we have to aim at something!
Please feel free to give me your feedback and thoughts on the plans, either by commenting below this post or directly by email if you prefer.

Next Course: Nonlinear analysis of 3D cable net and catenary structures using Blender and Python
Just this week I started research and development on the next course - I'm very excited about this one and the capabilities it will equip us with. Cable net and catenary structures exhibit non-linear behaviour and as such, the type of linear analysis we've tackled so far isn't appropriate. We'll be building on what we learned in the 3D Space Frame course and expanding to incorporate geometric non-linearity - essentially modelling structures that undergo large deflections.
It's still very early days in the development process, but I'm aiming to produce a course that shows you how to build structural models like the one shown below [Olympic Park, Munich], in Blender and then analyse them in a Jupyter notebook using an iterative non-linear solution process.
I'm hoping to have this course live within about 6-8 weeks.


Next Solver Toolbox: 3D Space Frame Structures
The next toolbox I'm working on building into the website is the 3D Space Frame solver. This shares a lot of the same code as the 2D truss toolbox I've just published, so the level of confidence in releasing this, soon, is high. I just need to carve out a solid week to focus on it. Expect this within Q1.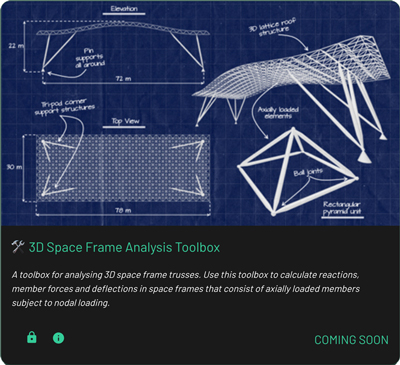 Depending on how well development goes on the catenary structures course, I'll probably prioritise this as the next solver toolbox after the Space Frame solver is live (likely Q2- early Q3). This would give us a neat package of related solvers that all use similar front-end and back-end code - so it makes sense to complete these before moving on to build out shear and moment-resisting structural solvers.

Structural Model Building Add-on for Blender
So far we've written scripts to get data into and out of Blender. The process is a little clunky but it works. I want to make this a lot more streamlined so that we can build our models in Blender and easily export them for analysis over on Labs. So, I'm going to build an add-on for Blender that will give us options and tools within the Blender interface, specifically for building structural models.
There is a lot of potential here and again, it's something I'm excited to get working on but I haven't broken ground on this just yet, so it will probably be Q2 before you'll be able to install the DegreeTutors Blender add-on.

Broader ambitions for 2022
I'm very interested in building out a course or two on the probabilistic analysis that underpins structural safety and reliability. Being able to predict the probability of structural failure is a valuable skill and not something many engineers have much exposure to. This is a fascinating topic and something that I think many members would get a lot of value from and find interesting. This is likely to be the next subject area we dive into after the cable net course.
I also want to continue developing courses on finite element analysis. In the second part of the year, I'd like to start working on a plate and shell FEA course. This would be a great next step from our course on Finite Element Analysis of 2D Continuum Structures. This will likely be quite a big course, so I'm not sure if it will be ready before the end of the year…a lot depends on how well the earlier projects go. If everything went perfectly, a release in the mid-part of Q4 could be possible. This would bring slab analysis as well as 3D shell structures into range!

Engineering Competitions??
One idea I've been playing around with is the possibility of hosting engineering competitions that use the growing library of solvers. This is just a concept for now, but I could imagine posting a regular challenge spec, e.g. model the most efficient structure that spans between specified supports.
Contestants could build and test their models within the relevant solver and the winner would be selected based on structural efficiency (and maybe style). I could even see an open/ongoing competition with leader boards ranking models based on efficiency. This is an idea I'll continue to think on and develop - a stretch goal for the year maybe. Let me know if this is something you'd like to see.
Pricing and rebranding to X…
At some point in the second half of the year, I'll be increasing the membership pricing (and perhaps segmenting the courses from the structural analysis toolboxes). This will not have any effect on existing All Access Members - when you sign up you lock in your subscription price and level of access for as long as you're a member. But, if you're a student member, it could be a good time to think about upgrading your membership.
DegreeTutors will also be rebranding and changing to another name in 2022. I'll write a separate post on this, but the headline is that most members are not actually undergraduate students (as far as I can tell) and the name isn't really a great reflection of what DegreeTutors offers. It doesn't even have engineering in the name!
Changing domain and brand name is going to be a major headache but I think it's worth doing now before the site audience grows any larger. More details to follow on this - no change in the immediate short term but as of yesterday, I concluded the purchase of the new .com domain - so it's definitely going ahead.
So, that's the general plan for 2022. It's quite a packed schedule (particularly alongside the day job

but I'm excited about all of the projects ahead - except maybe the work involved in the name change. I should manage to get a lot more done over the summer months when my Uni students are on vacation.
I'd really appreciate hearing your feedback on the plans or any suggestions or requests that you have. The plans aren't set in stone so please feed in how DegreeTutors can be helpful for you. Either add a comment below or email me directly, sean@degreetutors.com
That's all for now,
Speak soon.