Hi All,
Just a quick check-in with a progress update on the course, Fundamentals of Reinforced Concrete Design to Eurocode 2.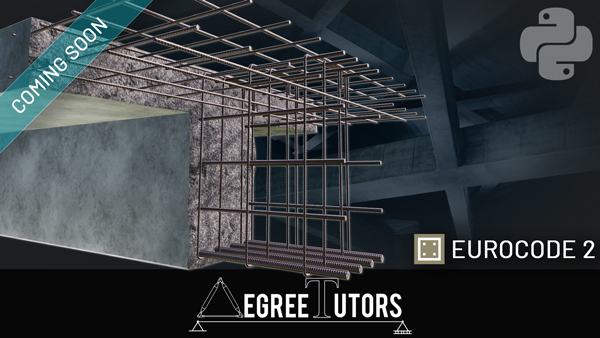 I've been writing for the last few weeks, more or less non-stop on this course - I want to make sure there's a full set of notes for you on Labs when the course launches (and not updated after)! There are also a lot of reference tables involved in code-based design, so I want to make sure these are available for you also.
I can share the breakdown of what I have so far:
The relevant codes for this course
Actions on structures
The ultimate limit state design
The serviceability limit state
Example - Determining design loads 1
Example - Determining design loads 2
Material properties
Cross-section analysis
Ultimate moment capacity
Example - Basic section design
Example - Calculate section moment capacity
Over-reinforced sections
Doubly reinforced sections
Example - Doubly reinforced section design
Example - Calculating doubly reinforced moment capacity
Flanged beams
Example - Flanged section moment capacity
Example - Flanged section design
Shear behaviour in beams
Reinforced shear resistance (Variable Strut Method)
Example - Complete bending and shear design
Example - Shear reinforcement design
Longitudinal shear in flanged beams
Example - Transverse shear reinforcement design
I may add another topic to this, I'm not sure yet. I want to keep the scope quite tight and really just focus on the fundamentals for someone new to RC design. So, we'll be covering other pretty important aspects of RC design in later courses (if people find this one helpful).
I also haven't started coding up any Python tools yet. So there's still plenty of work ahead. I'm going to mix up how I build this course and try to complete it fully, section by section. This way, I can release sections of it as they're finished to members through Labs, long before the full course is released to non-members. My coding-heavy courses don't really lend themselves to this, but it should work for this course.
That's all for now, I'll be back in touch soon.
Cheers,
Seán