Hi,
Welcome to our new community forum and lecture support platform. The video below gives a quick walkthrough of the forum and how to use it.
In summary, going forward, this is the place through which all DegreeTutors communication will be funnelled, from news and announcements to individual lecture support and even direct private messaging. I've also added a general category for you to post your own discussion topics.
A robust platform for growth
You might notice that some of the features and styling on the forum seem familiar. This is because I've implemented Discourse, probably the most robust open-source forum software available today.
This means that we have a lot of features and functionality that previously wasn't available through Podia. As you use the forum, these will gradually reveal themselves to you. In the longer term, as DegreeTutors grows, I think this stand-alone forum will serve us much better.
Migrating lecture Q&A support
You'll see that at the time of posting this, I only have a handful of courses set up for support through the forum. So, if you have a question from a course not yet migrated over from Podia, go ahead and ask it through the Podia comments as normal.
As courses are set up and support is migrated, I'll gradually switch off new comments on Podia. But I'll leave the Podia comments visible for reference.
Embedded lecture comments on Labs
Another motivation for setting up a stand-alone forum was the ability to embed lecture comments at the end of each lecture on Labs. If you scroll to the bottom of a lecture on Labs (if I've set the course up), you will see the related comment thread.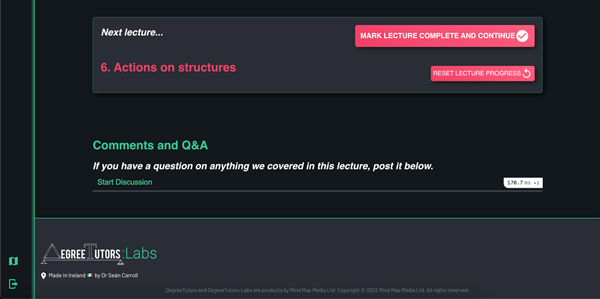 If you click to comment, you'll be taken directly to that discussion topic on the forum, where you can post your question in a reply (or answer someone else's question).
Direct messaging
Our new forum also has really good direct messaging functionality. So, you'll be able to direct message me (or anyone else on the forum) in much the same way as you can on Podia.
If you want to send me a private message, going forward, please do so through the forum (you can always email me too). In due course, I'll turn off the direct messaging functionality in Podia.
I really hope you find the forum helpful. As time progresses, I think it will grow into a valuable knowledge base that can complement the other DegreeTutors learning materials.
Speak soon,
Seán